Are You Considering Enhancing Your Smile? READ THIS FIRST!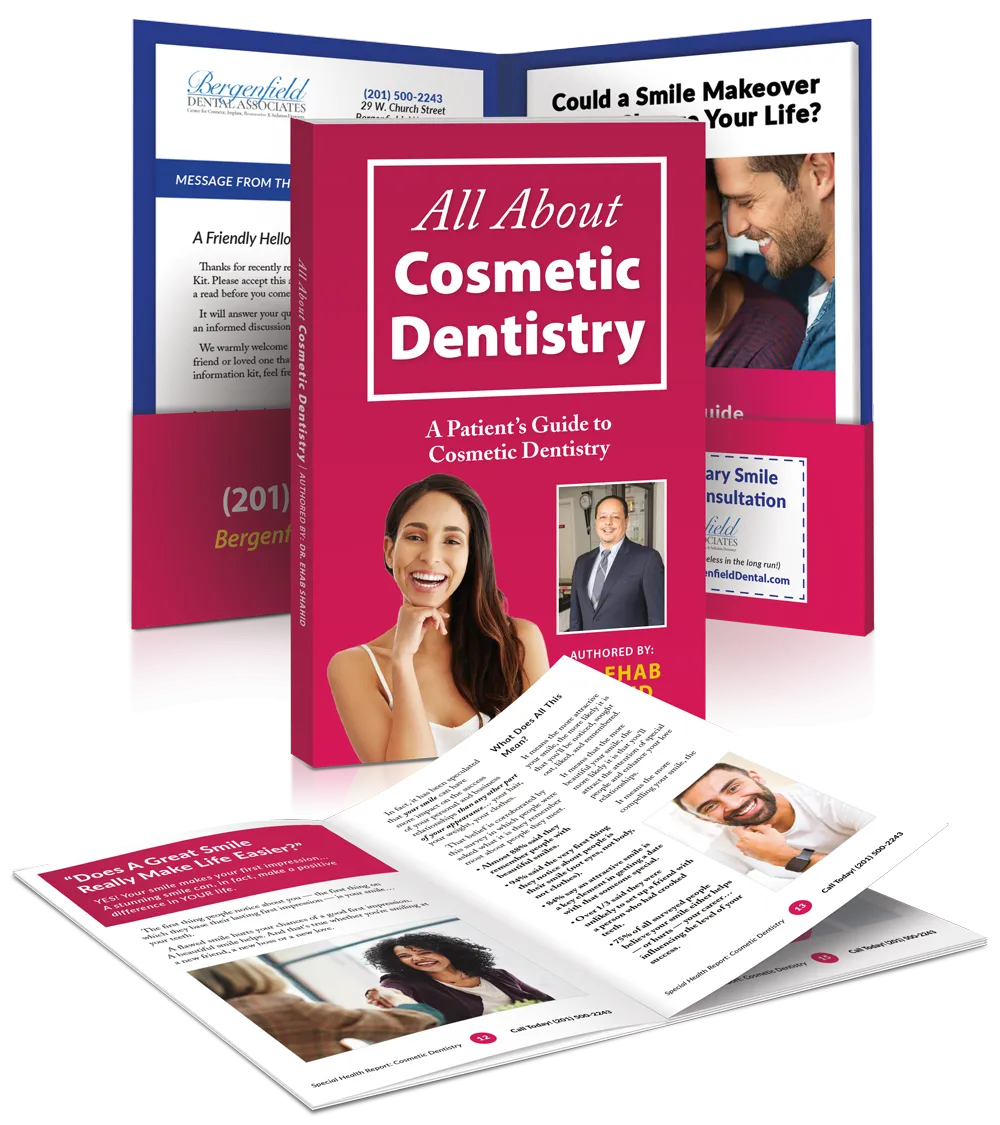 FREE
Special Health
Information Kit About:
SMILE MAKEOVERS
Inside:
What Are the Costs?
Can Anyone Get a Smile Makeover?
What Does a Smile Makeover Include?
What Are the Treatment Options?
...And so much more great information!
A person's smile has a huge impact on their appearance. Cosmetic issues such as crooked teeth or noticeable gaps can take away from a person's smile and leave them less confident about their appearance. That is why is the professionals at Bergenfield Dental take great pride in providing cosmetic dental treatments for their patients. We understand the importance of a great smile, and it is our goal to correct any cosmetic issues that may be affecting you. With our help, you can have a beautiful smile that you aren't afraid to show off to the world. Cosmetic dental procedures help with:
Repairing teeth that are chipped or broken
Adjusting the size, shape and contour of teeth
Replacing teeth that are lost or missing
Filling in noticeable gaps within the mouth
Making teeth whiter
Fixing overbites, underbites and crossbites
Our cosmetic dental treatments utilize modern solutions that are extremely effective in restoring the appearance of one's teeth. In many cases, treatments can be completed in just one or two visits and with little-to-no pain. The end result is a natural-looking smile that offers a look of strength and well-being.
Some of our cosmetic dental treatments include:
It is important to remember that practicing good oral hygiene and proper dental habits is the best way to maintain teeth and gums that provide the desired appearance, but for those who want some extra help, the oral care experts at Bergenfield Dental are ready every step of the way.
If you would like to learn more about our cosmetic dentistry treatments and how they can help you improve your smile, please contact us at (201) 384-0100 to schedule an appointment.
Veneers
Bergenfield Dental offers patients custom-fit veneers that are designed to enhance the look of a person's teeth and make noticeable improvements to their smile. Veneers consist of wafer-like shells that are applied to the surface of the teeth in order to correct certain flaws. Since veneers are extremely versatile and easy to use, more patients are opting to choose veneers as their preferred form of cosmetic dental treatment.
There are a wide variety of uses for veneers, including:
Color enhancement of teeth
Correct teeth that misshapen or crooked
Repair teeth that have become chipped or damaged
Resize teeth to better fit the mouth
Since veneers are ultra-thin, they are virtually undetectable to others. Their natural color gives them the appearance of healthy, white tooth enamel. Veneers are also designed to be resistant to staining from tobacco products and beverages such as coffee and wine. When cared for properly, veneers should last a full decade or longer. Bergenfield Dental uses porcelain veneers because of the material's natural appearance and excellent performance.
The process of installing custom-fit veneers requires two visits to our practice. The process starts by shaving off some of the enamel of the designated tooth. This ensures that the veneer will be able to fit properly on the tooth. Next, we will take impressions of the tooth and determine the specific coloring that will be used. These impressions will allow a custom veneer to be specially created in a dental laboratory. The initial visit will end with the patient being fitted with a temporary restoration that is designed to last until the custom veneer is ready.
The patient will return for the second visit once the custom veneer is finished. The tooth will be cleaned and treated with etching gel to help the veneer bond with the tooth. Using a bonding agent, the veneer will be fixed to the tooth. After the procedure is completed, the patient will be provided with special instructions on how to care for their newly-installed veneer.
If you would like to learn more about veneers and how they can improve the appearance of your teeth, please contact our office to set up a consultation. You may call us at (201) 384-0100 to schedule an appointment.