Are You Considering Enhancing Your Smile? READ THIS FIRST!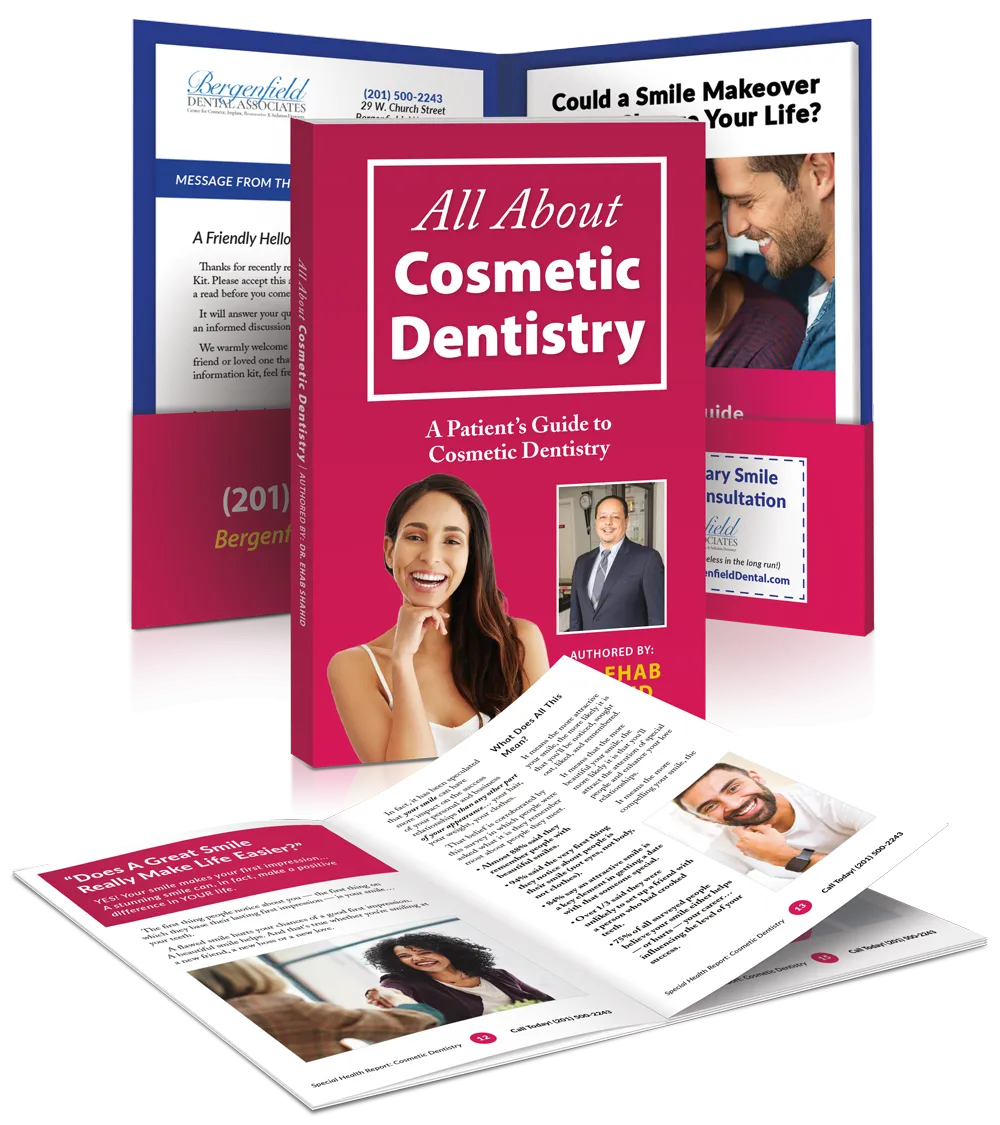 FREE
Special Health
Information Kit About:
SMILE MAKEOVERS
Inside:
What Are the Costs?
Can Anyone Get a Smile Makeover?
What Does a Smile Makeover Include?
What Are the Treatment Options?
...And so much more great information!
A person's smile has a huge impact on their appearance. Cosmetic issues such as crooked teeth or noticeable gaps can take away from a person's smile and leave them less confident about their appearance. That is why is the professionals at Bergenfield Dental take great pride in providing cosmetic dental treatments for their patients. We understand the importance of a great smile, and it is our goal to correct any cosmetic issues that may be affecting you. With our help, you can have a beautiful smile that you aren't afraid to show off to the world. Cosmetic dental procedures help with:
Repairing teeth that are chipped or broken
Adjusting the size, shape and contour of teeth
Replacing teeth that are lost or missing
Filling in noticeable gaps within the mouth
Making teeth whiter
Fixing overbites, underbites and crossbites
Our cosmetic dental treatments utilize modern solutions that are extremely effective in restoring the appearance of one's teeth. In many cases, treatments can be completed in just one or two visits and with little-to-no pain. The end result is a natural-looking smile that offers a look of strength and well-being.
Some of our cosmetic dental treatments include:
It is important to remember that practicing good oral hygiene and proper dental habits is the best way to maintain teeth and gums that provide the desired appearance, but for those who want some extra help, the oral care experts at Bergenfield Dental are ready every step of the way.
The oral care experts at Bergenfield Dental are proud to offer patients complete smile makeovers that are designed to enhance appearance and increase confidence. A Smile Makeover can be comprised of a variety of services based on your needs and desires including teeth whitening, veneers, composite bonding and dental implants. With our help, you will be able to obtain a gorgeous smile that you are proud to show off to others.
We take many factors into account when providing complete smile makeovers. Some of these factors include the patient's facial appearance, skin tone, gum tissue and lips. By taking the time to ask patients what they already like about their teeth and what they would like to improve upon, we can create a personalized plan that provides the best possible results. Each component is carefully considered so that the patient is happy with every aspect of their complete smile makeover.
Tooth Color
The effects of stained and dulled teeth can be reversed with professional teeth whitening. This treatment leaves patients with a brightened, youthful smile that looks completely natural. The simple procedure can greatly improve upon the appearance of a person's smile, and the results are noticeable after just one visit. With a whitened smile, the patient will experience a refreshed look that makes their teeth stand out in all the right ways.
Alignment and Spacing
Teeth that are misaligned or uneven can detract from the appearance of any smile. Other issues such as excess spacing and crowding can also result in an unsightly look. A complete smile makeover can address these issues using treatment methods such as veneers and orthodontics. Once your teeth are correctly aligned and properly spaced, you will be one step closer to having the perfect smile.
Damaged or Missing Teeth
When teeth are damaged or lost, the smile undoubtedly suffers. Chipped and cracked teeth often ruin the look of an otherwise great smile. Meanwhile, gaps created by missing teeth can result in an unwanted appearance. By using treatment methods such as cosmetic veneers, composite bonding and dental implants, our team of dental care specialists can repair damaged teeth and replace missing teeth so our patients can enjoy healthy, natural-looking smiles.
If you would like to improve the appearance of your smile, please contact us to set up a consultation to learn more about our complete smile makeovers. You may call us at (201) 384-0100 to schedule an appointment.